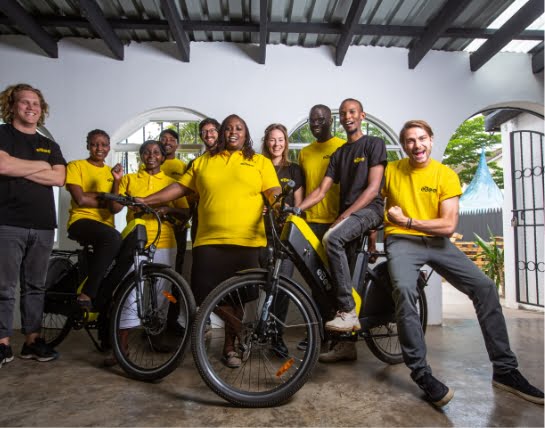 Sales Executive – eBee Africa
THE COMPANY
eBee is a Kenyan start-up with Dutch roots founded in 2021. The purpose of the company is to make cities in Sub-Saharan Africa cleaner and more habitable. We believe that e-bikes can greatly contribute to this. The massive growth in popularity of e-bikes over the last decade has proven that e-bikes can replace ICE two-wheelers in urban areas. E-bikes are also a great tool to generate income in the form of delivery. It's time to make this great vehicle class accessible to every person in Africa! To reach this goal we have launched the first e-bike subscription (B2B) of Sub-Saharan Africa. Our primary focus has been on the delivery market, with e-bikes specially designed for food and light parcel delivery. Because of this successful introduction, we have developed the first e-bike build for Sub Sahara called the Nyuki One expected to be launched in January next year (B2C).
eBee is a for-profit company but has a strong social outlook. eBee has a positive, diverse, and supportive culture—we look for people who are curious, inventive, and work SMART to be a little better every single day.
YOUR CHALLENGE
We are looking for a Sales Executive to grow our sales operations in Nairobi. In your role, you will purposely bring in new partners and customers that will use our electrical bicycles and ensure our future growth. In your role, you will work closely with the Head of Sales.
RESPONSIBILITIES
• Ensuring that we are visible in their segmented areas of operation through the distribution of E-flyers, physical visits, and any other campaign materials
• With the guidance of the line manager, craft a winning strategy to ensure targets in the different KPIs are met and surpassed.
• Ensuring we have at least 75% lease capacity from their targets. This means they will have to sign up and help lease partners daily.
• Build and maintain a solid sales pipeline with clear and quantifiable conversion timelines.
• Build and maintain relationships with the partners and prospects we operate with. They form the first line of escalation.
• Have them conduct regular checks on the onboarded partners to assess their satisfaction in utilizing our eBees.
• Identify, respond to, and visit potential leads with the sole purpose of converting them.
• Meet with potential partners, and determine their specific needs, and wants, making Be in charge, ride the change suggestions as appropriate.
• Anticipate the needs and follow up on rider and partner concerns and provide timely feedback and solutions.
• Follow up with the technical team and any other support teams and address partner complaints and rider concerns. This is to minimize the churn of already onboarded partners
• Drive demand and awareness from different segments.
• Monitor demand and supply patterns from partners and advise the Operations team on the impact. This helps in the planning and forecasting of needs.
PROFILE
● Hands-on deal closer! Business-savvy and a strong mindset for revenue growth
● Affinity with the eBee purpose: build something extraordinary for the African market, lead the transition to clean energy and make a significant social impact
● Affinity with electrical bicycles and sustainable mobility
● Diploma/Degree in a relevant discipline.
● Familiarity in the automobile leasing space or Solar PAYGO systems is a pré
● Excellent oral and written communication skills.
● Strong analytical and organizational skills, highly systematic personality.
● Ability to present products and ideas with ease, confidence, and persistence.
● Self-driven and able to work with minimum supervision.
● A commitment to teamwork and working in a professional manner.
● 2+ years proven experience in sales & BD operations or similar
● Interpersonal skills, the willingness, and talent to easily build personal relations with both your team as customers and other stakeholders
WHY SHOULD YOU APPLY?
● Opportunity to be part of an ambitious start-up in an early phase with superb growth potential in the African market
● Playing a significant role in a purposeful venture with social impact on a Continental-scale
● We are a balanced mix of experienced, qualified senior team members and young, energetic and talented individuals with a proven track record in Europe and Africa
● Potential to grow with the company into more senior roles at a fast pace
● Attractive remuneration
SUPERVISION & CONTACT
To apply for the job please share your personal information, short motivation, and resume to us by email to [email protected]. In case of any questions regarding this vacancy please feel free to reach out.
Deadline for applications: 18th of November 2022
Startdate: 1st of December, 2022
Envisioning another dream job at eBee?